Tuesday, April 6, 2010
7:00 p.m.
Gualala Community Center
47950 Center St., Gualala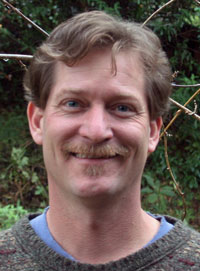 Occidental Arts and Ecology Center biologist and educator, Brock Dolman will offer a series of slide images and interpretation about water, watersheds, human development patterns and restoration ideas that support regenerative ecological integrity and instream flows for salmonids.
Water is the 'element of life' on Planet Water and the conservation of native ecosystems swimming, crawling, flying and walking with biodiversity is absolutely dependent upon hydrologically intact watersheds.
Web information: www.oaec.org & www.oaecwater.org.
Brock Dolman is a co-founder and co-owner of Occidental Arts and Ecology Center and the Sowing Circle Intentional Community. He is the Director of OAEC's WATER Institute and Permaculture Program. He is a wildlife biologist and permaculture, erosion control and watershed restoration consultant.
Since 1995 under Brock's direction, the OAEC Permaculture Program has become nationally recognized as a leading permaculture education and innovative demonstration center. Brock has presented at numerous conferences such as Bioneers, EcoFarm, GreenPrints, HOPES and SolFest. He also has lectured internationally in Costa Rica, Brazil and China. He has been on many national radio programs, published nationally distributed articles on permaculture and watersheds, and widely lectures at local universities, colleges, environmental forums, civic clubs, and public political meetings.
He has been featured in the award winning films: The 11th Hour by Leonardo DiCaprio; The Call of Life by Species Alliance; and Permaculture: A Quiet Revolution by Vanessa Shultz; and the soon to be released films – We Are What We Eat by Aaron Lucich and Divine Water Film by Healing Waters Institute. In 1992 he completed his BA, graduating with honors from the University of California Santa Cruz with the Biology Department and Environmental Studies Department.
Sponsored by Friends of the Gualala River